Date: 6th to 8th December 2016   Time: 9:00 am to 5:00 pm   Venue: Crystal Crown  Hotel Petaling Jaya 
Is poor english hampering your success?
Give yourself a leg up. Enroll in our 7+1 Essentials of Effective Business Writing to brush-up your writing skills with this interactive programme!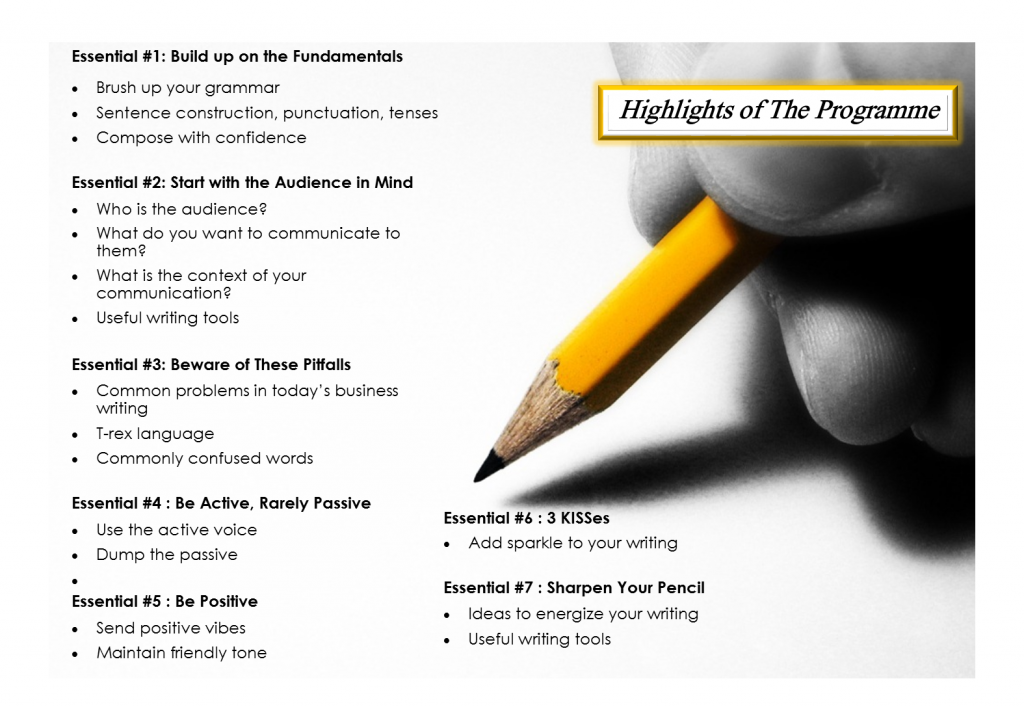 Workshop objectives
At the end of the course, participants will learn how to write effective business documents by:
Examining the habits of effective business writing.
Learning how to apply each Essential# with hands-on exercises and examples drawn from their workplace.
Learning how to compose common business documents such as emails and reports.
Methodology
A combination of interactive activities including games, presentations, videos, exercises and group discussions.
A combination of reading and writing exercises to be completed by the participants on a weekly basis and to be returned with coach's feedback. Once per week group Skype coaching.
Who should attend
Executives, managers, administrators, secretaries, any professional who wants to write effective business correspondence.
For more information about The 7 + 1 Essentials of Effective Business Writing, please contact Tracy Tan at  03-7955-3686 or email to tracytan@executiveworkplace.com or training@executiveworkplace.com.